The
Bonafide Art Galleries Organization
(BAGO) and the
National Commission for Culture and the Arts
(NCCA) together with the
Department of Tourism
brings us the Manilart10, to showcase the finest works of world-class Filipino artists.
MANILART10
, is the second international art fair to be hosted in the Philippines.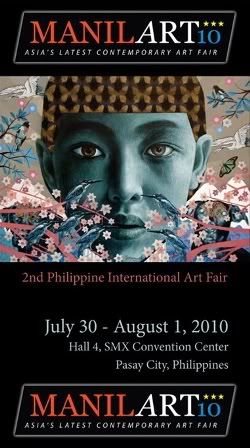 It is participated in by the country's leading art galleries and those of the Asian region. This is where art collectors and enthusiasts can view the finest examples of Contemporary Art today and gather together to exchange views and insights about the world of art.
The opening night, which is by-invitation-only, will serve as a preview to the entire art fair and will be held from 6 to 10 pm on July 29, 2010.
MANILART10 will then open its doors to the general public from 11 am to 8 pm on July 30 to August 1, 2010 at the SMX Convention Center Pasay City. Admission tickets are priced at Php200.
I happen to get a FREE ticket from
Sulit.com.ph
for the event. :)
Aside from the exhibits, on-the-spot competitions and art lectures will also be conducted. For more info, visit
http://www.manilart.com/home.html
Let us support our World-Class Filipino Artists, see you there!
Photo courtesy of MANILART10.